no sincerity
hypocrisy in buckets
Great Pumpkin, cropped
For me, a part of Fall and Halloween is watching It's the Great Pumpkin Charlie Brown.
I enjoyed it as a kid.
I reveled in as a college student, making a point to watch it with my room mate, Doug Bruder. (We would call each other later in life with reminders when it was on.)
I introduced it to my children.
And my grand children.
I knew it was on this week but was surprised when I turned on the TV last night to see it on.
I yelled for my Grand Daughter, Azaria, to join me.
My daughter, Lauren, says, 'Oh its Dad's show."
And my dear wife came in and sat with me just to be nice.
Azaria had her phone in her hand and was less than eager to look away from the device to watch this 60 year old animation play out as her grand father mouthed the lines.
I was pleased to notice this year that when trick-or-treating, Charlie Brown got rocks several times.
In the past, to make room for commercials, the Bach Fugue of 'ALL I GOT WAS A ROCK' had been cut to a single repetition.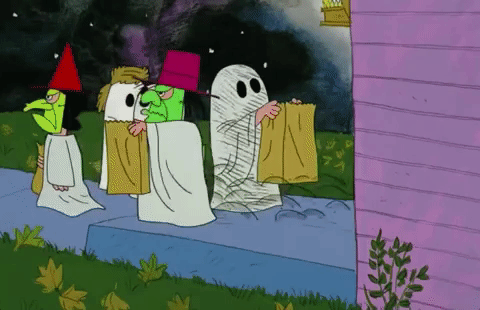 I gloried in Linus' speech of, "Each year, the Great Pumpkin rises out of the pumpkin patch that he thinks is the most sincere. He's gotta pick this one. He's got to. I don't see how a pumpkin patch can be more sincere than this one. You can look around and there's not a sign of hypocrisy. Nothing but sincerity as far as the eye can see."
Then on to the party and it happened.
Lucy bobs for apples and pulls Snoopy out of the tub and starts yelling blecch blecch.
Snoopy slithers away … and … CRAWLS INTO THE PUMPKIN PATCH?
What?
WHAT!
Wait a minute.
Snoopy climbs out of the tub and goes over to Schroeder at the piano.
Schroeder then plays out a melody of World War 1 ballads that stirs Snoopy's heart or moves the dog to grief.
He doesn't go out to the pumpkin patch until over come with tears, he leaves the piano and goes out the door.
Where was the toothy grin and Pack Up Your Troubles and SMILE SMILE SMILE.
Where was the embarrassment in the dogs face when it howls in emotion during Roses of Picardy?
All cut to create more time for commercials?
Might as well cut off Mona Lisa's nose.
No sincerity here.
Oh the hypocrisy!
Oh.
Oh.
Oh, Good Grief!